a land of acoustic discovery
The Phonurgia Nova competition is a land of acoustic discovery: an international event which rallies sound and radio artists from all over the world. In 2016, 199 productions from 17 different countries were entered, and 36 of those were selected for an award. The jury was open to the general public, and its president, Chantal Dumas, underlined that this competition is "a genuine sound art observatory and not a conservatory".

An environment that left no room for those formulated recipes that categorize sounds, no prefabricated assessments, just attentive ears and thought provoking debates. As usual, many called but few chosen…
All the works awarded can be listen on our new website www.sonosphere.org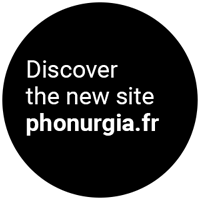 AWARD WINNERS 2016

After a two-day public listening session and discussion at the Bibliothèque Nationale de France (Paris), the jury is pleased to announce the names of the winners of the 21th edition. Following individual and group listening sessions, and after a long deliberation, the juries manage to extract from the list of 199 proposals submitted, a short list of 36 titles which were listen during 5 public sessions. Aand among them, 4 Grand Prizes were selected.
It is therefore with great pride that we announce the 2016 winners :
Aurelia Balboni (living in Brussels) win the BNF "Archives de la parole Award" for "Les mots de ma mère" a radiophonic feature supported by the ACSR - Belgique. ( 1 000 euros)
Soundwalk Collectiv win a special mention for his work "What we have behind : Jean-Luc Godard archives" a radiophonic feature supported by Deutschlandradio Berlin and Wild Bunch.
Sebastien Dicenaire for "Palema" (a radio fiction produced by ACSR (Belgique) and Daniel Martin-Borret (autoproduced) for " Total Vrac" share the "Fiction Award" supported by the SACD. (2 times 2 000 euros)
Hanna Hartman for "Töst" (a sound art piece produced by Deutschlandradio kultur Berlin), and Mark Vernon and Jenn Mattinson for "Circular thinking" (autoproduced, United Kingdome) share the "Sound Art Award" supported by the SACEM. ( 2 000 euros)
Clara Alloing for "Nous sommes trop jeunes, nous ne pouvons pas attendre" (produced by Film! -Belgique) win the "Pierre Schaeffer discovery Prize". (1 000 euros)
AWARD WINNERS 2012

After a two-day public listening session and discussion at the Gaîté Lyrique (Paris), the jury awarded
Alessandro Bosetti (born in 1973 at Milan, living in Berlin) for "636" a radiophonic performance supported by the RTBF La première
Jules Wysocki (23 years old) has won the Pierre Schaeffer Award for his work "Ascenseur, Tour Sapporo"
The Ars Acustica group of the EBU European Broadcasting Union, represented by Marcus Gammel, selected two other works besides the award-winning pieces, for international distribution:
Philippe Debarge "C@marg"
Frieder Butzmann "Burtts Family Combo (Deutschlandradio kultur)
Sebastien Roux "Nouvelle" d'Après Gustave Flaubert)
AWARD WINNERS 2011

After a two-day public listening session and discussion at the Gaîté Lyrique (Paris), the jury awarded a prize to the following authors :

"Pierre Schaeffer Award for Best Newcomer 2011"
Sonia Ringoot (Self-production, Belgium) for "En quête de terre" (In Search of Land) (51')
At the turn of the 20th century, many Flemings came to Normandy to cultivate the land. This is the unearthing of a story hidden behind the silence of the author's father. The jury praised the elegance of the production with its magnificent play on suggestion and ellipsis.
Sonia Ringoot, 30 years old, studied film directing at the IAD (Institute of Broadcasting Arts) in Louvain-la-Neuve in Belgium. She has made commissioned films for several NGOs.

"Phonurgia Nova Award 2011"
Felix Kubin
Säugling, Duschkopf, Damenschritte (Infant, Showerhead, Female Steps, A Library of Noises) a selfproduction, Germany, 47'),
The late 1950s saw the emergence of the first sound effect and ambiance recordings for the soundtracks of domestic films. They were created by amateur film makers who wanted to add "real life" to their short films or slideshows. With this piece, the composer Felix Kubin humorously deconstructs the ideal sound library by showing that sound always escapes the sign which purports to embody it. A Kagel-like work according to the jury president, Daniel Deshays, who highlighted its playful and critical dimension. It demolishes the ideology of sound effects which still holds sway in television and cinema. Listeners are confronted with correctly or incorrectly labelled sounds and an increasing complexity of sound. What happens when identification becomes shaky?
Born in Hamburg in 1969, Felix Kubin is an experimental musician. He composes for the cinema and radio and performs throughout Europe. He's interested in the effects of noises and runs the record label Gagarin Records.

The group Ars Acustica of the European Broadcasting Union, represented by Marcus Gammel, selected two other works besides the award-winning piece by Felix Kubin, for international distribution:

Canopy Beat (ACSR, Belgium, 28') by Els Viaene
If music of the spheres were terrestrial, it might be found in this piece from the Amazon. Captured, absorbed, surprised, the primary forest reveals its own beat. Step by step, the human penetrates it, haunted by the pulsation, at its mercy.
Born in Brussels in 1979, Els Viaene started off in documentaries at the RTBF. From a realist treatment of sound, she has evolved towards more abstract environments, using the musicality and natural rhythm of ambient and electronic sounds which she enlivens in accordance with the collage principle. She works on performances but also Internet games and installations. She creates naturalistic and organic imaginary environments www.aurallandscape.net

It's All So Dark (ORF Kunstradio, Austria, 21') by Anna Raimondo with the participation of the artist Younes Baba Ali.
Mass media conform to stereotypes, the expected, the already known. "It's all so dark!" is a different radiophonic space, a sort of sound maze, a guide to losing yourself, a non-guide where the voice doesn't follow any logic and where the sounds remain indecipherable. It's impossible to listen to this piece while driving or cooking because it requires two conditions: absolute darkness and a pair of very attentive ears. To lose and maybe find yourself in the end.
Anna Raimondo was born in 1981. It was in Marseille that she opened her ears and discovered her vocation for radio while working on the programme "Jusqu'ici tout va bien" (So far so good), produced by Radio Grenouille and broadcast by various radio stations. She explores new modes of interaction in her performance, combining public space and radio, where the listeners can be the performers.
AWARD WINNERS 2009
This year 44 authors and organisations have been selected for an award.

Thomas Köner (Germany), Christophe Korn (Germany, Hessischer Rundfunk), Roque Rivas (Israël), Ilan Green, Andrew O'Connor (Canada), Bjorn Erik Haugen (Norway), Yuna Amand (France), Christophe Modica (France), Seiko Kinoshita (United Kingdome), Atelier du Bruit (France), Emilie Mousset (France, Cie Atelier de Papier), Stephane Degoutin (France), Isabelle de Mullenhe (France), Johannes Sistermans (Germany), Christine Von Acker (Belgium, Les Grands Lunaires), Alessandro Bossetti (Germany, Deutschlandradio Kultur), Vivienne Corringham (USA), Alexandre Flory (France), Jean-Guy Coulange (France), Eric Valmir (France, France-Inter), Nadja Schöning (Germany, SWR2), Malgorzata Zerwe (Poland, Radio Gdansk), Stephano Gianotti (Germany, Deutschlandradio Kultur), Grace Yoon (Deutschlandradio Kultur), Antje Vowinckel (Germany), Lasse-Marc Riek (Germany), Anna Salzberg (France, Arte Radio), Anna Raimondo (Spain), Ossian Perez (France Culture), Daniel Martin-Borret (France), Anouk Batard (France, Arte Radio), Xavier Fassion (France), Olivier Toulemonde (Belgium, ACSR), Sébastien Dicenaire (Belgium, ACSR), Hanna Hartman (Germany), Cecile Liege (France), Juliette Boutillier (France, Shop Bag Radio), Michel Créïs (France), Joaquin Cofreces (Argentine), Virginia Madsen (Australie, ABC), Olga Shopalova (The Voice of Russia), Stephane Borrel (France), Marc Chalosse (France), Aline Chambras (France).
The Jury greeted with strenght the success of two remarkable realizations :
- The first Prize goes to "The Last Voice" from Joaquin Cofreces (Argentina, self-production). The voice is not the simple echo of itself but is use as a sublime shroud to a language in the agony, the Yagans language. On listening on Liberation website LIBE-LABO
The piece has been broadcasted by Radio France France Culture the 31th january 2009 in l'Atelier de Création Radiophonique
- A mention was also awarded to a longuer and amazing piece "Arcoparlante" of 50' of the italian (living in Berlin) Alessandro Bosetti for the experiment in which he is engaged on the medium radio itself.
"Good evening, we are playing Stille Post (Telephone) ..." this was the opening line used by a Deutschlandradio speaker on long and middle wave frequencies the night of march 21st.
On that night Alessandro Bosetti and the Klangkunst group of the station set in place a radio-art version of the popular game creating a gigantic sound poetry generator on the frequencies (and internet streaming ) of the radio station.
During the event partly incomprehensible radio messages has been transmitted and transcribed several times until they transformed into abstract, musical, mysterious and sometimes surprisingly funny materials. This process happened with the active participation of listeners all over the world. Arcoparlante, is a "speaking ark". An electromagnetic feast of misunderstandings on a large scale for a sound artist always concerned with language oddities, mis-communication and translations used as creative tools.
Arcoparlante can be listened on the artist website www.melgun.net
2 residencies have been given to Stephane Borrel and Marc Chalosse. They will have the opportunity to developp new sound projects in 2010 in our 2 studios partners INA-GRM (Paris) and GMVL (Lyon).
We warmely thank the 179 candidates for their attending !
AWARD WINNERS 2008

"Involving the public in critical analysis is a great experience, which opens up and gives us the desire to propose such meetings more often" says Michele Moutashar, director and chief curator of the Museum of Fine Arts of Arles. "

"The defense of our ears pleasure was beautifully shared. A fine vintage is out in 2008." president Daniel Deshays.





Andreas BICK (Germany),
win the first radio and sound art prize with Fire Pattern - Frost Pattern. Produced by Deutschlandradio Kultur 2007 (2 x 26 min.) (Endowment: 3 000 euros awarded by the SACD)
Andreas Bick's work distinguishes itself by the remarkable sound recording quality. Coming within reach of the phenomenon's he wants to evoke (sublimation of water, fire, frost, the crackling of ice), he derives from it a powerful acoustic substance. These two works place the listener in the position of a serene observer mesmerized by all these natural processes.

Bernadette JOHNSON (Switzerland),
win the second radio and sound art prize with Summer Fragments (5 min.) (Endowment: 1 500 euros, awarded by the SACEM)
Bernadette Johnson has had multiple nominations at the Phonurgia Nova Competition but this is the first time she wins a prize. Her work is characterized by an exploration -and a successful articulation- of interiority. The sophisticated and bold editing work, the choice of sounds and their treatment, enable the author to flesh out an echo-form, a magnificent metaphor of the memory, an instable assembly of recollections.


No prize awarded in the "New media/ interdisciplinary media" category, but the jury was unanimous in awarding 2 distinctions:

Christoph KORN and Lasse-Marc RIEK (Germany) for their album of chosen silences...
This small book is a conceptual proposal, pointing pages after pages, towards a location, an event, enabling the reader to reflect and imagine the sounds "that are taking place". The silence as a void, as a manifestation, as a pointer to a disappearance, as an "apparition".


Laura MALACART (UK/Italy), for her film, Voicings.
By asking English-speaking actors to read immigrants testimonies about their language learning process, Voicings manages to generate a whole array of interpretations in a very short time span and with very simple means. This illustration from which the scar (the limited command of the language) has been expunged is an invitation to tolerance and compassion.

3 residencies have been given to Erick Bullot, Allessandro Bosetti and Nicole Marmet. The 3 authors will have the opportunity to developp new sound projects in 2009 in our 3 studios partners INA-GRM (Paris), IMEB (Bourges) and GMVL (Lyon).

We warmely thank the 289 candidates for their attending !

FOLLOWINGS OF THE FESTIVAL OF LISTENING IN 2009
The two winners have been invited by RADIO CAMPUS PARIS during 2 nights of free broadcasting. You can discover their program on the website of our radio partner http://www.radiocampusparis.org

As last year's, the Week of Sound is presenting the winners Phonurgia Nova at IRCAM - Paris - in january.